---
Kräuter für Körper & Seele - Arnika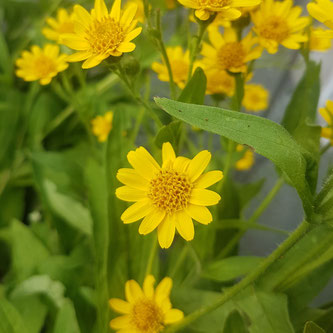 Arnika... Known as the wolf flower, Arnika carries the wild nature of the wolf within her. I love this imagery! Perhaps you too have read "Women who run with wolves" by Clarissa Pinkola Estes, in which she tells the story of La Loba? If not, I will be sharing this wonderful story with you in my next post. ⠀
⠀
La Loba, for me, represents the nature of Arnika, bringing light into our beings and healing all kinds of injuries, including emotional trauma - even if from a long time ago. ⠀
⠀
Arnika has a balsamic effect on the soul when we experience nightmares, anxiety and despair after traumatic experiences in our lives. She helps us when we find it difficult to get back on our feet and feel as though we will never find happiness again. ⠀
 ⠀
Looking at this beautiful flower, she conveys courage and confidence, with an appearance as though she were holding her arms up towards the Sun, absorbing life energy. ⠀
⠀
Arnika distributes her strength evenly between her roots and flowers, and in so doing has a harmonizing effect on the heart.⠀
⠀
Please Note: Arnika is a protected plant, and should you live in an area where it grows wildly, please refrain from picking it. It is, however, possible to buy cultivated Arnika plants which I have found grow well on both balconies and in gardens. 
IMPORTANT: Please do not use Arnika on open wounds.
Story: LA LOBA from "Women who run with wolves" by Clarissa Pinkola Estés⠀
Deutsch
Arnika ... Bekannt als die Wolfsblume, trägt Arnika die wilde Natur des Wolfes in sich. Ich liebe diese Bilder! Vielleicht haben auch Sie "Die Wolfsfrau" von Clarissa Pinkola Estes gelesen, in dem sie die Geschichte von La Loba erzählt? Wenn nicht, werde ich diese wundervolle Geschichte in meinem nächsten Beitrag mit Ihnen teilen. ⠀
⠀
La Loba repräsentiert für mich die Natur von Arnika, bringt Licht in unsere Wesen und heilt alle Arten von Verletzungen, einschließlich emotionaler Traumata - auch wenn dies schon vor langer Zeit geschehen ist. ⠀
⠀
Arnika hat eine balsamische Wirkung auf die Seele, wenn wir nach traumatischen Erlebnissen in unserem Leben Albträume, Angst und Verzweiflung erleben. Sie hilft uns, wenn es uns schwer fällt, wieder auf die Beine zu kommen und das Gefühl zu haben, dass wir nie wieder glücklich werden. ⠀
 ⠀
Wenn Sie diese wunderschöne Blume betrachten, vermittelt sie Mut und Zuversicht. Sie sieht aus, als würde sie ihre Arme in Richtung Sonne halten und Lebensenergie aufnehmen. ⠀
⠀
Arnika verteilt ihre Kraft gleichmäßig auf ihre Wurzeln und Blüten und wirkt so harmonisierend auf das Herz.
⠀
Bitte beachten Sie: Arnika ist eine geschützte Pflanze. Wenn Sie in einem Gebiet leben, in dem sie wild wächst, pflücken Sie sie bitte nicht. Es ist jedoch möglich, kultivierte Arnika-Pflanzen zu kaufen, von denen ich festgestellt habe, dass sie sowohl auf Balkonen als auch in Gärten gut wachsen.
WICHTIG: Bitte verwenden Sie Arnika nicht auf offenen Wunden. ⠀
Geschichte: LA LOBA aus "Der Wolfsfrau" von Clarissa Pinkola Estés