---
Kräuter für Körper & Seele - Goldrute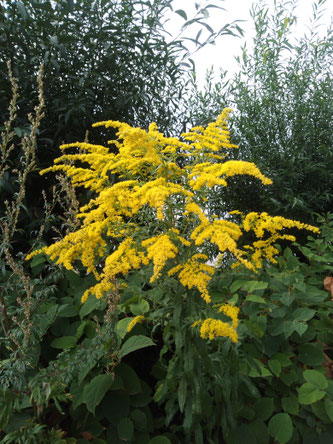 Goldenrod... Connection, love, comfort, relationship skills, flow of feelings. 
⠀
Do you feel blocked in your relationships? Or like there is a lack of flow in your life? Then Goldenrod can heal your connection and bring back the flow of emotions.⠀
⠀
Associated with both the Sun and Venus, Goldenrod symbolises both intimate and friendly relationships, and has the ability to unify that which is separate and incomplete, making it whole.⠀
  ⠀
It is friendship and love which connects people to one another. They activate the energies that enable a healthy kidney function. When the harmonious flow of those emotions which connect us dries up, when disappointments, frustrations and feelings of guilt block relationships, the psychic and mental energy (relating to the human soul or mind) is weakened and the kidneys suffer.⠀
⠀
Goldenrod is the healing herb with the most specific connection to the function of the kidneys. It is particularly indicated for kidney problems that are related to painful experiences and loss in relationships.⠀
⠀
Looking at Goldenrod, in particular Solidago canadensis (my personal favourite), you can feel her power and how she connects from the base of her stem and how her energy flows to her most outer blossoms in a firework of beautiful yellow flowers, celebrating love and life!
Poem: Goldenrod by Mary Oliver
Deutsch
Goldrute ... Verbindung, Liebe, Komfort, Beziehungsfähigkeit, Fluss der Gefühle.
Fühlen Sie sich in Ihren Beziehungen blockiert? Oder als ob es in Ihrem Leben einen Mangel an Fluss gibt? Dann kann Goldrute Ihre Verbindung heilen und den Fluss der Emotionen zurückbringen. ⠀
Goldrute ist sowohl mit der Sonne als auch mit der Venus verbunden und symbolisiert sowohl intime als auch freundschaftliche Beziehungen. Sie hat die Fähigkeit, das, was getrennt und unvollständig ist, zu vereinen und zu einem Ganzen zu machen
Es ist Freundschaft und Liebe, die Menschen miteinander verbindet. Sie aktivieren die Energien, die eine gesunde Nierenfunktion ermöglichen. Wenn der harmonische Fluss jener Emotionen, die uns verbinden, versiegt, wenn Enttäuschungen, Frustrationen und Schuldgefühle Beziehungen blockieren, wird die psychische und mentale Energie (in Bezug auf die menschliche Seele oder den menschlichen Geist) geschwächt und die Nieren leiden.
Goldrute ist das Heilkraut mit der spezifischsten Verbindung zur Nierenfunktion. Es ist besonders angezeigt bei Nierenprobleme, die mit schmerzhaften Erfahrungen und Beziehungsverlust zusammenhängen. ⠀⠀
Wenn Sie Goldrute betrachten, insbesondere Solidago canadensis (mein persönlicher Favorit), können Sie ihre Kraft spüren und wie sie sich von der Basis ihres Stiels verbindet und wie ihre Energie in einem Feuerwerk aus schönen gelben Blumen zu ihren äußersten Blüten fließt, um die Liebe und das Leben zu feiern!
Gedicht: Goldenrod von Mary Oliver