---
Kirschen, nahrhaft für Körper & Seele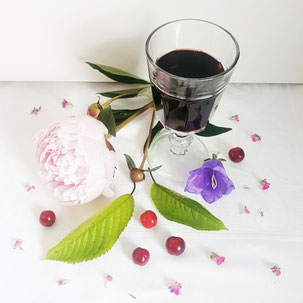 Why should you always have cherry juice in your kitchen cupboard? 
⠀⠀⠀⠀⠀⠀⠀⠀⠀
As a mom, cherry juice is one of the natural remedies you will always find in my kitchen apothecary. Why? Well, for one, it has antipyretic properties. This means, it helps sink a fever. But not only that, it also helps our bodies fight free radicals which are produced as an intermediate product of our metabolism, which increases when we have a fever.⠀⠀⠀⠀⠀⠀⠀⠀⠀
⠀⠀⠀⠀⠀⠀⠀⠀
Cherries are also a diuretic, expectorant, good for your heart, relieve inflammation and pain. Just to name a few of its health benefits.⠀⠀⠀⠀⠀⠀⠀⠀⠀
⠀⠀⠀⠀⠀⠀⠀⠀
It's berry season, enjoy! 
Deutsch
Warum Sie immer Kirschsaft in Ihrem Küchenschrank haben sollten?
⠀
Als Mutter ist Kirschsaft eines der natürlichen Heilmittel, die Sie immer in meiner Küchenapotheke finden. Warum? Zum einen hat es fiebersenkende Eigenschaften. Dies bedeutet, dass es hilft, Fieber zu senken. Aber nicht nur das, es hilft unserem Körper auch dabei, freie Radikale zu bekämpfen, die als Zwischenprodukt unseres Stoffwechsels produziert werden und bei Fieber zunehmen. ⠀⠀⠀⠀⠀⠀⠀⠀⠀
Kirschen sind auch ein Diuretikum, Expektorans, gut für Ihr Herz, lindern Entzündungen und Schmerzen. Um nur einige seiner gesundheitlichen Vorteile zu nennen
⠀
Es ist Beerensaison, geniesse es!