---
Der Zauber des Gundermanns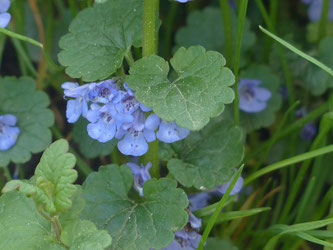 Ground-Ivy... A herb with strong magical powers, it was once believed that it had a strong connection to the Spirit world, and that its beneficial effects on your health could only be achieved in association with those Spirits who served this purpose.
It was considered to be a protective plant, with the ability to make you clairvoyant. As the fear of witches was widespread in the Middle Ages, this was a desirable ability. By using Ground-Ivy it was believed that you could recognise witches, particularly on Walpurgis Night.
Ground-Ivy wrapped around a yellow candle and lit on a Tuesday, was also believed to help you see who wanted to cause you harm.
Not only was it an important magical herb for protecting your house and garden from lightning and storms, it was also used in all forms of milk magic. Reinforced with a spell, it ensured a good milk yield... and some even believed you could get freckles from smelling it.
The Magic of Ground-Ivy brings serenity, life-awakening warmth, helps us to let go and start anew at a spiritual level. 
Deutsch
Gundermann ... Ein Kraut mit starken magischen Kräften. Früher glaubte man, dass es eine starke Verbindung zur Geisterwelt hat und dass seine positiven Auswirkungen auf Ihre Gesundheit nur in Verbindung mit den Geistern erzielt werden können, die diesem Zweck dienen .
Es wurde als Schutzpflanze angesehen, mit der Fähigkeit, Sie hellsichtig zu machen. Da die Angst vor Hexen im Mittelalter weit verbreitet war, war dies eine wünschenswerte Fähigkeit. Durch die Verwendung von Gundermann glaubte man, Hexen erkennen zu können, insbesondere in der Walpurgisnacht.
Gundermann, um eine gelbe Kerze gewickelt und an einem Dienstag angezündet, soll Ihnen auch helfen, zu sehen, wer Ihnen Schaden zufügen wollte. 
Es war nicht nur ein wichtiges magisches Kraut, um Ihr Haus und Ihren Garten vor Blitzen und Stürmen zu schützen, es wurde auch in allen Formen der Milchmagie verwendet. Mit einem Zauber verstärkt, sorgte es für eine gute Milchleistung ... und einige glaubten sogar, man könne Sommersprossen bekommen, wenn man daran riecht.
Die Magie des Boden-Efeus bringt Gelassenheit, erwachende Wärme und hilft uns, loszulassen und auf spiritueller Ebene neu anzufangen.