---
Der Zauber des Weißdorns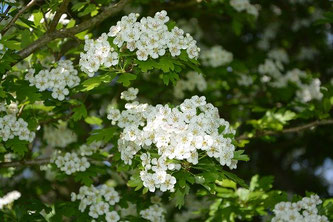 Regarded as a Fairy Tree, the Hawthorn is the gateway to the Fairy realm. This is why when collecting Hawthorn, we should always announce our intention beforehand & explain the reason for our need. Ask for help & give thanks, for otherwise we may incurr the wrath of the Fairy Folk, who teach us awareness of our actions. Hawthorn Fairies are very appreciative of an offering of fruit, flowers or a coin. Or perhaps you would like to sing them a song, or recite a poem?
The Hawthorn is bushy & thorny, offering shelter & protection to a variety of small animals. It is the protector of the small & vulnerable.
It bears flowers with a strong odour, which by human standards stink. They hold the Hawthorn's most powerful healing properties. The Hawthorn teaches us to recognise those parts of ourselves which we find offensive, and to honour the fruits that they bear, for there is a close connection between what is offensive and healing.
The Hawthorn helps us to overcome opposing forces. The nature of the Hawthorn manifests itself in the field of tension between pent-up force and impulsive discharge. A rhythm is created through congestion and dispersion.
It is this characteristic which heals the heart, both physically and emotionally.
The Hawthorn's magic lies in awareness, compassion, protection & rhythm.
You too can heal your heart through the Magic of the Hawthorn.
Deutsch
Der Weißdorn gilt als Feenbaum und ist das Tor zum Feenreich. Aus diesem Grund sollten wir beim Sammeln von Weißdorn unsere Absichten immer im Voraus bekannt geben und den Grund für unseren Bedarf ankündigen. Bitten Sie den Weißdorn um Hilfe und bedanken Sie sich, um  den Zorn des Feenvolkes nicht auf sich zu ziehen, die uns sonst Achtsamkeit in unserer Handlungen lehrt. Weißdorn Feen schätzen Obst, Blumen oder Münzen als Opfer sehr. Oder vielleicht möchten Sie ihnen ein Lied singen oder ein Gedicht vorsagen?
Der Weißdorn ist buschig und dornig und bietet einer Vielzahl kleiner Tiere Schutz und Unterschlupf. Es ist der Beschützer der Kleinen und Verletzlichen.
Es trägt Blüten mit starkem Geruch, die nach menschlichen Maßstäben stinken. Sie haben die stärksten heilenden Eigenschaften des Weißdorns. Der Weißdorn lehrt uns, jene Teile von uns zu erkennen, die wir als anstößig empfinden, und die Früchte zu ehren, die sie tragen, denn es besteht eine enge Verbindung zwischen dem, was beleidigend und heilend ist.
Der Weißdorn hilft uns, gegnerische Kräfte zu überwinden. Die Natur des Weißdorns manifestiert sich im Spannungsfeld zwischen aufgestauter Kraft und impulsiver Entladung. Durch Überlastung und Zerstreuung entsteht ein Rhythmus.
Es ist diese Eigenschaft, die das Herz sowohl physisch als auch emotional heilt.
Die Magie des Weißdorns liegt in Bewusstsein, Mitgefühl, Schutz und Rhythmus.
Auch Sie können Ihr Herz durch die Magie des Weißdorns heilen.