---
Der Zauber des Holunders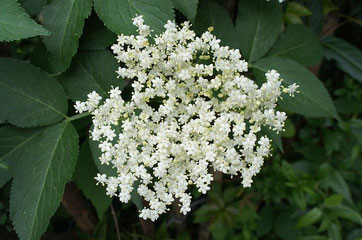 The Elderberry is without a doubt one of my favourite herbs. I love the smell, the taste, her flowers and berries, her form and the way she grows. Wild and free.

The Elder is sacred to many goddess traditions, in particular to Venus and Holle. The Elder Mother inhabits the Elder tree and holds the power to work a variety of magic.

The Elder offers protection, can induce vivid dreams and bring us closer to the "other world", has strong healing properties and the ability to remove negative spells and influences.

The leaves or branches of the Elderberry can be hung in doorways or windows to protect your home. If planted in the garden near the kitchen it will protect you from negative energy and illness, and offers a home to good House Spirits.

The Elder tree is believed to be the gateway to the other realm, and as such is the Guardian of the Gateway. Her magic lies there where opposites meet. Light and dark. Protection and danger. This and the underworld. Her white blossoms have healing powers, her dark blue berries are slightly poisonous. However, when cooked - transformed - the berries release their healing properties.

The Elder teaches us about transformation. About the cycle of life, death and rebirth.

Also see my post on "Mother Hulda" (under the category Mythology), which is closely connected to the Elder tree, and the symbolic meaning of this wonderful fairytale.

And if you have the opporunity to take a nap under an Elder tree this summer, you just might enter the Land of Fairies...
Deutsch
Der Holunder ist ohne Zweifel eines meiner Lieblingsheilpflanzen. Ich liebe den Geruch, den Geschmack, ihre Blumen und Beeren, ihre Form und die Art, wie sie wächst. Wild und frei.
Der Holunder ist heilig für viele Göttin Traditionen, insbesondere Venus und Holle. Die "Alte Mutter" bewohnt den Baum und besitzt die Kraft, eine Vielzahl von Magie zu wirken.
Der Holunder bietet Schutz, kann lebendige Träume hervorrufen und uns der "Anderswelt" näher bringen, hat starke heilende Eigenschaften und die Fähigkeit, negative Zauber und Einflüsse zu entfernen.
Die Blätter oder Zweige der Holunder können in Türen oder Fenstern aufgehängt werden, um Ihr Zuhause zu schützen. Wenn es im Garten in der Nähe der Küche gepflanzt wird, schützt es Sie vor negativer Energie und Krankheit und bietet guten Hausgeistern ein Zuhause.
Es wird angenommen, dass der Holunderbaum das Tor zur Anderwelt ist und als solcher der Wächter des Tores. Ihre Magie liegt dort, wo sich Gegensätze treffen. Licht und Dunkelheit. Schutz und Gefahr. Dies und die Unterwelt. Ihre weißen Blüten haben Heilkräfte, ihre dunkelblauen Beeren sind leicht giftig. Beim Kochen setzen die Beeren jedoch ihre heilenden Eigenschaften frei. Sie werden transformiert.
Der Holunder lehrt uns über Transformation. Über den Kreislauf von Leben, Tod und Wiedergeburt.
Lesen Sie gern meinen Beitrag über "Frau Holle" (in der Kategorie Mythologie), der eng mit dem Holunderbaum verbunden ist, und die symbolische Bedeutung dieses wunderbaren Märchens.
Und wenn Sie in diesem Sommer die Möglichkeit haben, ein Nickerchen unter einem Holunderbaum zu machen, können Sie das Land der Feen vielleicht sogar betreten...