---
Der Zauber des Schwarzdorns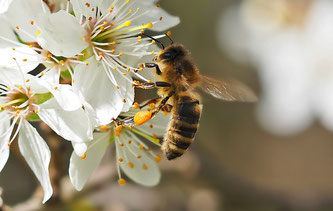 The Blackthorn (Prunus spinosa) is a sacred tree to the Crone aspect of the Triple Moon Goddess, and represents the waning and new moon, as well as winter. A particularly cold spring is called a 'Blackthorn Winter'. It is seen as a protective tree and representative of the endless cycle of life and death. The flowers appear before the leaves in spring, often when there is still snow on the ground, announcing the coming of the season.  Its blossoms were used in ancient fertility rites as well as being hung in the bedchamber of a bride on her wedding night.
The tree itself is said to be protected by the fairy folk who inhabit it, not allowing any mortal to cut a Blackthorn on 11th May or 11th November (which some believe to have been the original dates of Beltane and Samhain). Sites where Blackthorn grows near to its sister plant the Hawthorn are regarded as being especially magical.
Deutsch
Der Schwarzdorn, oder Schlehdorn, (Prunus spinosa) ist ein heiliger Baum und wird in Verbindung mit dem Aspekt der Greisen der dreifaltigen Mondgöttin gebracht.  Es repräsentiert den abnehmenden und neuen Mond sowie den Winter. Ein besonders kalter Frühling wird als "Schwarzdornwinter" bezeichnet. Es wird als schützender Baum angesehen und steht für den endlosen Kreislauf von Leben und Tod. Die Blüten erscheinen im Frühjahr vor den Blättern, oft wenn noch Schnee auf dem Boden liegt, und kündigen das Kommen der Saison an. Seine Blüten wurden in alten Fruchtbarkeitsriten verwendet und in ihrer Hochzeitsnacht im Schlafzimmer einer Braut aufgehängt.
Der Baum selbst soll von den Feen geschützt werden, die ihn bewohnen. Sie hindern Sterblichen daran am 11. Mai oder 11. November einen Schwarzdorn zu fällen (von denen einige glauben, dass es die ursprünglichen Daten von Beltane und Samhain waren). Standorte, an denen Schwarzdorn in der Nähe seiner Schwesterpflanze, dem Weißdorn, wächst, gelten als besonders magisch.